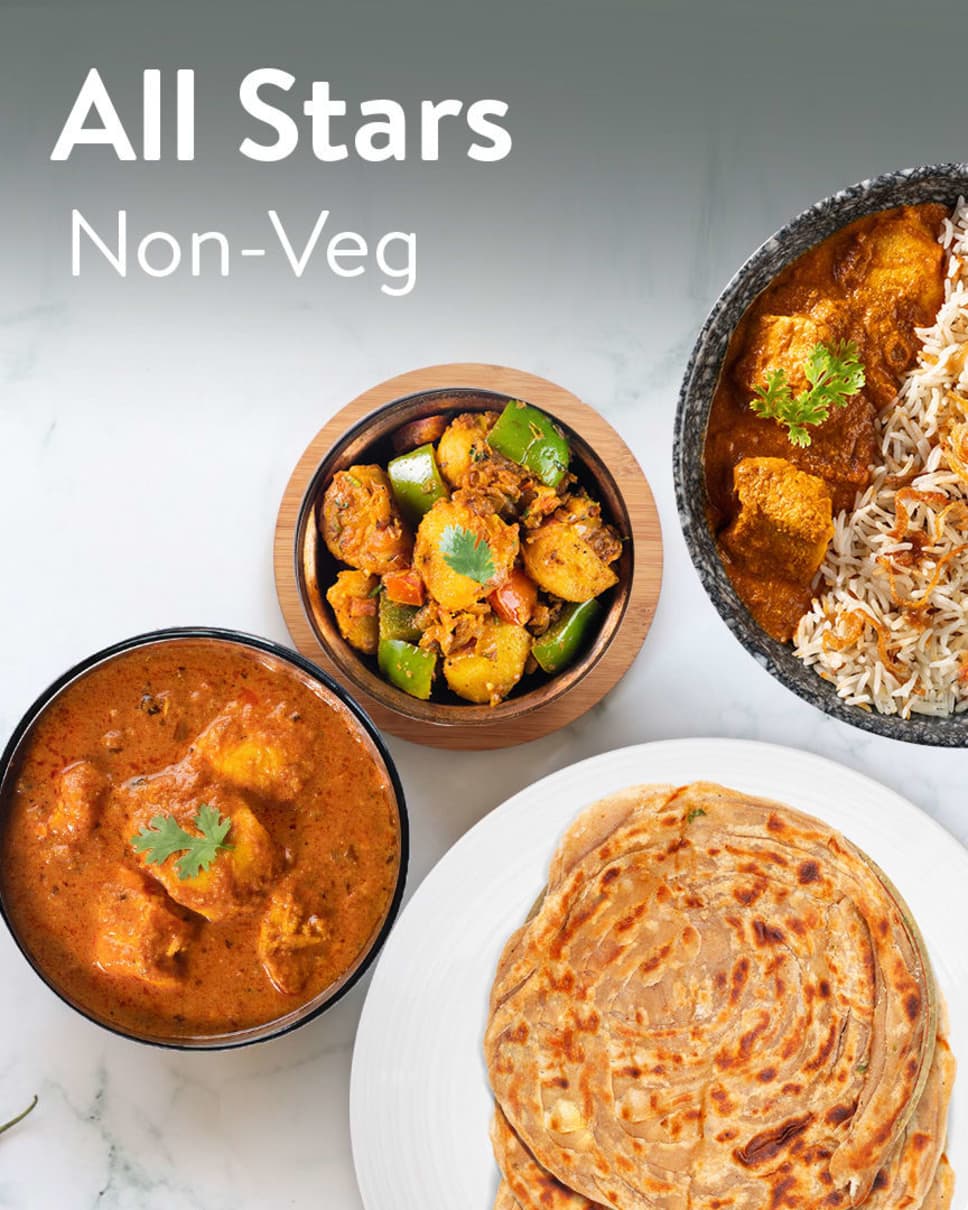 Home >
 eat.fit >
  subscriptions
All Stars Non-Veg
Want something new every day? Make way for the All Stars! Curated by our chef from across the menu, you can go from an Indian thali one day to a gourmet Buddha Bowl the next.
Offers applied
25% Off on Monthly Subscriptions
T&C

Meals are delivered every day at the chosen address and time

Full flexibility to change delivery address, time and even cancel meals at any time

Get a full refund for any meals you cancel. Refunds are credited to your account at the end of the cycle or adjusted against your next billing cycle
You can auto-renew subscriptions and get the best price per meal. Subscriptions renew on the same day of every week/month from the start date
Upcoming meals
Sat & Sun meals will not be delivered if deliver on weekends is off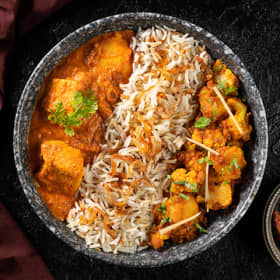 Sat, 15 May
Butter Chicken, Aloo Gobhi & Jeera Pulao
Can you resist the irresistible goodness of not one, not two but three awesome dishes? This super bowl brings the best of all worlds together with its wholesome portion of jeera pulao, generous serving of our succulent and creamy butter chicken and a handsome portion of the humbly heroic aloo gobhi adraki! Served with pickle of the day, this one's an absolute delight for your stomach and for your taste buds alike! Allergen information: Vinegar, nut, seed, dairy
Try for ₹189
Sun, 16 May
Lasooni Methi Chicken, Yellow Dal Tadka, Paratha Thali
Here's a power packed combination of eat.fit's favourite dishes to make your most loved ghar jaisi thali. This thali is a combination of high protein dal in a home-style mix of spices topped with fragrant tadka and a delicious lasooni methi chicken cooked with chopped palak along with a magaz, methi & tomato-onion gravy. Scoop this meal with some whole wheat parathas. Allergen Information: Contains gluten, seeds.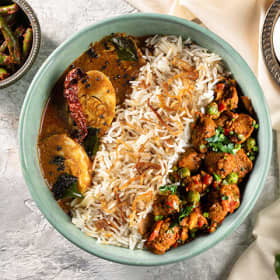 Mon, 17 May
Chettinad Egg Curry, Soya Masala Sabzi & Jeera Pulao
This is your flavourful and nutritious meal - mildly spiced Chettinad egg curry, soya chunks cooked in Indian home spices and aromatic jeera pulao. Allergen information: Mustard, seeds, egg, nut.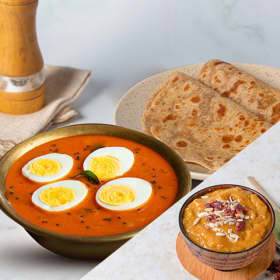 Tue, 18 May
Masala Egg Curry, 2 Paratha Thali & Turmeric Besan Halwa
Want a meal that's nutritious yet light on your stomach? This thali of egg curry, soft whole wheat parathas, cucumber carrot salad and crunchy sirka onions is not only packed with nutrients but also with deliciousness of turmeric besan halwa.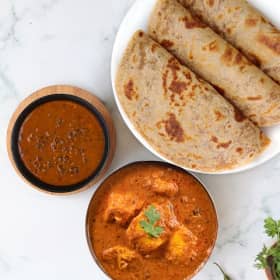 Wed, 19 May
Fit Thali Butter Chicken Paratha Meal
3 Parathas, Butter Chicken and Dal Makhani. Make way for this one-fit wonder! With your favourites packed in one meal, our Fit Thalis take deciding what to eat off your plate. Move over boring dal, sabzi; Coming up are fibre-packed parathas with eat.fit's creamy butter chicken that has succulent pieces of chicken. It's served with an innovative no-cream dal makhani that has the same taste and richness as the original, minus the unnecessary guilt! Allergen Information: Contains gluten, dairy and nuts.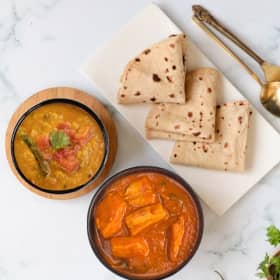 Thu, 20 May
Chicken Chettinad, Yellow Dal Tadka & Roti Thali
Enjoy soft fresh whole wheat rotis with Southern classic chicken chettinad - tender chicken pieces cooked in chettinad masala and easily digestble yellow dal tadka. Allergen information: Gluten, seeds, nuts.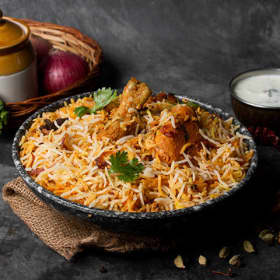 Fri, 21 May
Indulge in your love for biryani with eat.fit. Dig into our Shahi murgh biryani that's the perfect balance of spices and flavours. With succulent chicken (served on the bone) enveloped in a yogurt-based marinade, this white rice biryani is finished off with some caramelised onions. Enjoy with flavorful raita. Allergen Information: Contains dairy and nuts.